Gratitude; tutor reading & improving behaviour; some experimentation
Ben Layzell (Atherton Community School); Josie Mingay (Greenshaw Learning Trust); Nat Parnell (Northampton Academy).
Hello everyone!
☀️The irony that the weather has been as beautiful as it has while we're on lock down is almost too much to bear. Until I remember the scale of the impact the current situation is having on health, wealth and happiness. And education.
🙏 So, today I am grateful that We Are In Beta:
gets to work with some incredible schools doing brilliant work

has a platform and a growing community to celebrate their work with and

has a committed, passionate and creative team. Thank you, Fran 🤓🦸, Jay 😎🎙️ and Saar 👨‍🎨💡. You have been incredible over the past few weeks.
---
If you're a new subscriber, last week I shared the first 2 of our new, twice weekly mini episodes, which we are producing while schools are closed. We're exploring how school leaders are innovating and what questions they are grappling with at this time.
---
🎧 Tutor Reading Programme
In episode 4, Josie Mingay, School Improvement Lead at Greenshaw Learning Trust, tells us about the crucial questions her team are grappling with when designing remote learning and how core values help answer them. She shares how they have reached many, many thousands of students, while not shying away from the difficult topics and managing not to break copyright law in the process through their online Tutor Reading Programme.
👂 Subscribe on Spotify | iTunes | Stitcher | Libsyn | TuneIn 🔉
⏲️ 10 minute listen
💬 Join the conversation with @JAMingay and @NiallAlcock. We'd love to know what you think.
---
🎧 Skype-y days
In episode 3, we spoke to Ben Layzell, Headteacher at Atherton Community School, Wigan. He tells us who he has to look after first during closure and why. We talk about the shift in social conscience in the younger generation and what he misses about the school day.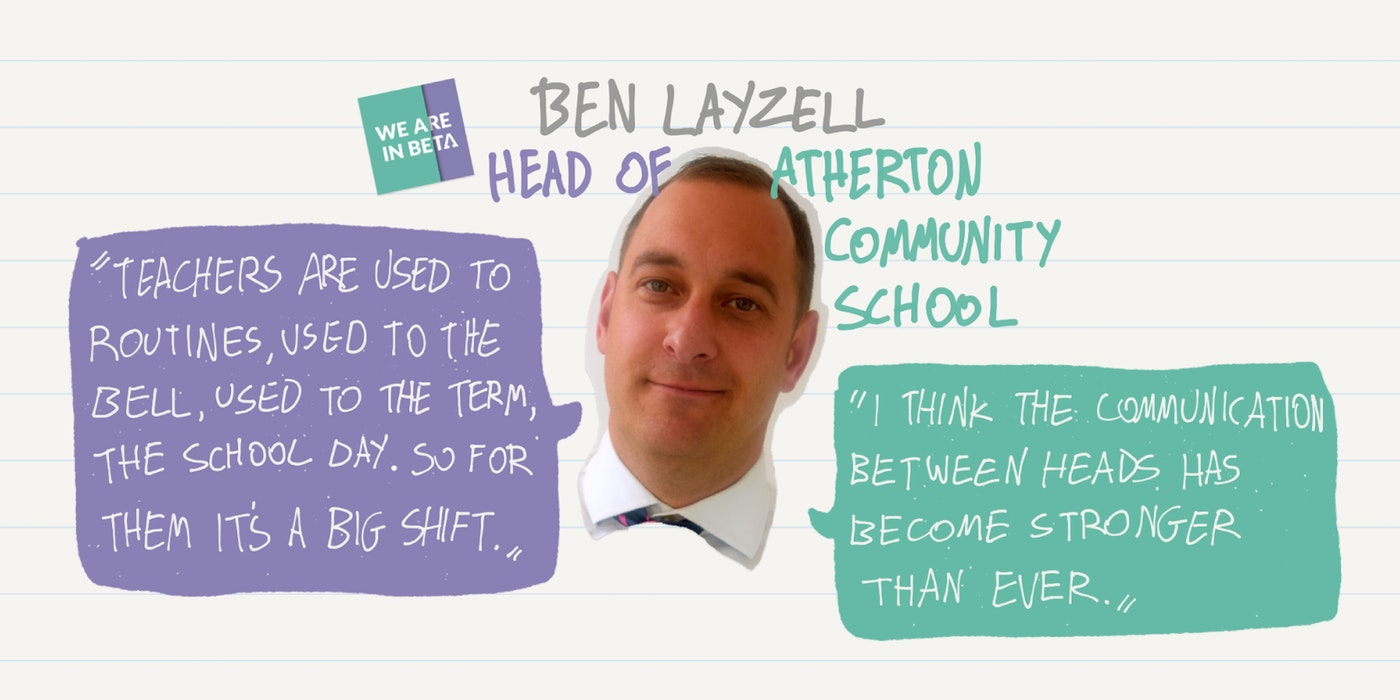 👂 Subscribe on Spotify | iTunes | Stitcher | Libsyn | TuneIn 🔉
⏲️ 10 minute listen
💬 Join the conversation with Ben Layzell and @NiallAlcock. We'd love to know what you think.
---
🌐 Community News
It's been a busy week in the We Are In Beta Community.
💼 Is your next school role among these 25 leadership opportunities advertised by our outward looking, forward thinking guests, listeners and members?
💭 Mide Ola Said (Vice Principal, Ark John Keats) explains why the disadvantage gap is a null point (hear him out!) and shares AJK's 5 principles for designing remote learning. Mide was pretty pleased that we turned his article into an infographic after he posted it. Read the article to see it.
⏪ Catch up on last week's webinar with Sam Strickland. We've collected all the resources mentioned, the books he recommended and the questions raised during the webinar. He's kindly offered to field any questions you have too.
---
🎥 Webinar: Nat Parnell, Northampton Academy - Transforming student behaviour
Join the 400+ people who've enjoyed last week's on this week's webinar on Tuesday at 2pm to hear how Nat and his team transformed behaviour, significantly reduced exclusions, improved attendance and dramatically increased the number of parents who would recommend the school to others.
📆 Tuesday 14th April 2020
🕔 2.00pm
---
Some experimentation
Over the coming weeks the We Are In Beta newsletter will be a bit shorter and coming to you a bit more frequently. We'll also be alternating who writes and sends it. Sometimes it will be me. Other times it will be Frances, our Head of Helpfulness. As always, all feedback welcome.
---
Thanks for reading and playing your part in making education the place we all know it can be.

Speak soon,

@NiallAlcock
---
️️❤️ If you find being connected to other school leaders and sharing approaches useful, hit the like button.