How to lead change successfully; surprise funding for tech; member action plans
Helen Ralston (The Rise School); Mike Wilson (St. Edmunds Catholic School); Community Members (We Are In Beta)
Hello everyone,
I've spoken to a lot of headteachers this week. What's clear is they are doing a phenomenal job leading on an increasing number, and complexity, of fronts: current corona; a phased corona return, the 'normal' September return (maybe) to name a few.
I want to thank them, and you, for everything you're doing to get ready for the safe school return, whenever that may be.
If you're a new subscriber or joined us on our most recent webinar with Sallie Stanton, Director of Education, at Advantage Schools, welcome!
You can catch up with previous editions, podcasts and webinars via the archive. Link at the bottom.
---
This week:
🎥: Putting People First: the secret of successful change leadership
🎧: How some surprising funding can eliminate the digital divide
🌐: We Are In Beta Community News: action planning resources
---
🎥 Webinar: Helen Ralston, The Rise School. Putting People First: the secret to successful change leadership
Much change lies ahead of us. It will be hard but it provides us with a huge opportunity to improve together.
What makes leading change so tricky is that it happens entirely inside your relationships with people. Without great care and attention, it can be a disorientating, demotivating and unsatisfying experience for everyone - leader and team.
Helen Ralston, Headteacher at The Rise School, has managed her fair share of change. Whether it be the move from their original temporary portacabins to their permanent building or the transition to their unique and highly successful social and academic curriculum, Helen has led changes successfully.
How? By putting people first.
📆 Tuesday 19th May 2020
🕓 4.00pm (I still can't get enough of exact time emojis!)
Save your spot and ensure you don't miss the resources Helen will share with attendees.
---
🎧 Podcast: How surprising funding can eliminate the digital divide
If good news is your thing, this story will warm the heart.
When Mike Wilson, Headteacher at St Edmunds Catholic School, and his team were getting ready to take their school completely online, they realised it wouldn't be possible. Then they got a call…
Listen to find out what happened next.
This story serves as a timely reminder that there are organisations out there looking to support schools, even during the most difficult times. It's also a lesson about how to best work with them to get what you need.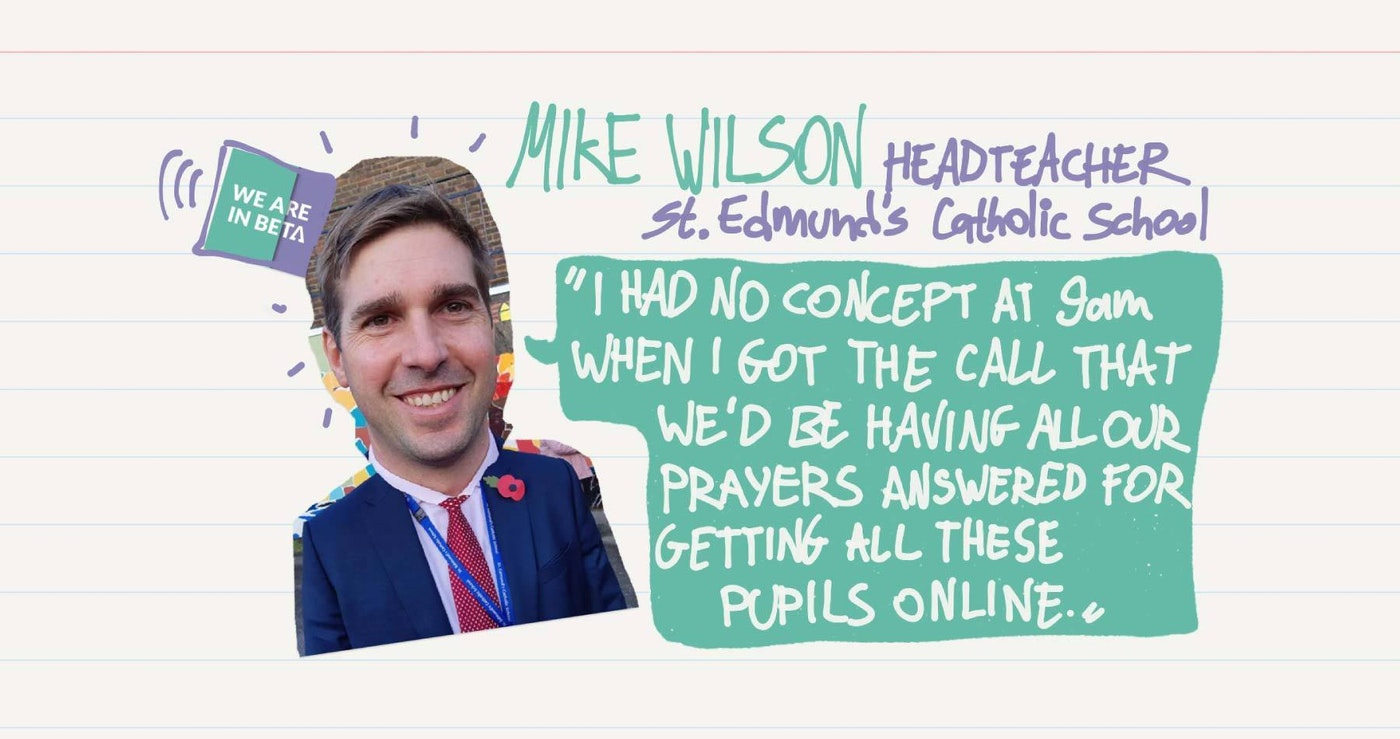 👂 Subscribe on Spotify | iTunes | Stitcher | Libsyn | TuneIn 🔉
⏲️ 15 minute listen
📖 Access links to resources mentioned plus bonus content from the episode here.
If you are a serving school leader or teacher, access our premium content for free, for a limited time here. Soon this will be the only place you can access it.
---
🌐 We Are In Beta Community News
Unsurprisingly, questions in the Community this week have been about action planning and how others are approaching reopening.
Once again the level of support our members are giving is phenomenal.
Here's a selection of the resources they've shared:
📎 "Post Covid-19 Action Plan" (Julie Carson, Director of Education, Woodland Academy Trust). Read here.
📎 "Action Plan for Reopening School" (Janine Bassindale, Executive Headteacher, North Lincs. Council). Read here.
📎 "Summary of Announcements" (Clare Fletcher, Director of Schools, Yare Education Trust). Read here.
If you're a serving school leader or teacher and you want to join conversations and access resources like these, hit the button below to join the community.
---
Thanks for reading and playing your part in making education the place we all know it can be.

Speak soon,

@NiallAlcock
---
If you found this useful and thought of colleagues and friends, who would too, share it with them by hitting the button below.
---
🆕 New here? Catch up with previous editions, podcasts and webinars via the archive
️️❤️ If you find being connected to other school leaders and sharing approaches useful, hit the like button.