Hello everyone,
I spent my childhood being slathered in factor 50 by my mum. In adulthood, I know full well that baldness and sunshine don't mix well. Despite that, last weekend, I managed to get sunburnt! This weekend, brrr. It feels like Autumn has arrived.
To counter the chill, the impending lockdown measures and help answer the questions we're being asked about the challenges you're facing, the We Are In Beta newsletter is in your inbox sharing solutions.
---
This week:
🤝 Community Support: Get answers to your questions from your peers. #ShowUpToHelpOut
🌐 Community Networks: How do you get the best out of MS Teams?
📝 Article: How can schools improve parental engagement?
---
🤝 Show Up to Help Out
Last week I said we were planning a series of conversations to help you get answers your questions from your peers.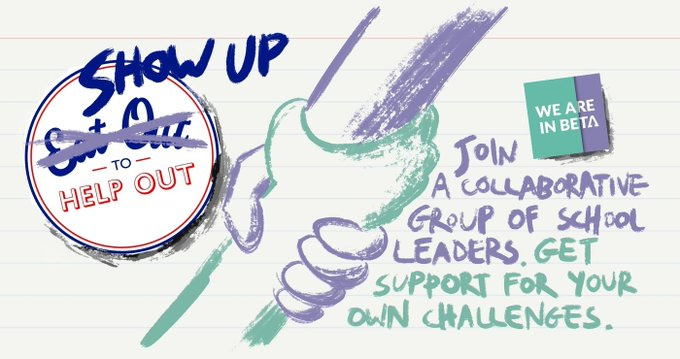 During these trying times, we could all use a helping hand, advice, direction, resources and even some words of encouragement and reassurance.
That's why We Are In Beta, and our a growing community of remarkable school leaders, are launching Show Up to Help Out:
Join up with 5 peers to meet live every week for 1 hour.

Present your most pressing challenge, question or request and have the rest of your group give answers, suggest solutions and share their thoughts and ideas.

Help the others in your group when it is their turn to ask for help.

Post your problem as a thread on the wider We Are In Beta community, for anyone else to chime in and provide support.
---
Secondary - Show Up to Help Out
To check out what's on the agenda and join one the pilot groups of secondary leaders…
---
Primary - Show Up to Help Out
To check out what's on the agenda and join one the pilot groups of primary leaders…
---
🌐 Expert Tips for MS Teams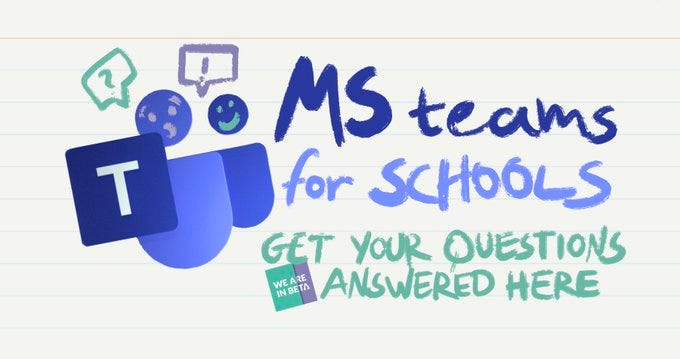 Before lockdown, the chances are you'd never used MS Teams in your school. During lockdown, it was a life saver, helping you meet your colleagues and teach your students remotely. Now it's here to stay.
But with a possible second lockdown on the way, are you getting the most out of it?
We've set up a group of MS Experts in Education, led by Head of Computer Science and ICT, Christopher Harris to make sure you do.
If you've got questions or want to get the best out of MS Teams…
---
📝Connecting with parents and carers
"So why is a lack of parental engagement a problem? It's clearly seen that students from disadvantaged backgrounds perform less well than their peers from non-disadvantaged backgrounds in key examinations – but the assumption that part of this is down to lack of parental engagement has recently been challenged"
Lucy Flower, shares nine strategies to remove the barriers to parental engagement.
---
Thanks for reading and playing your part in making education the place we all know it can be.

Speak soon.

@NiallAlcock
---
If you were forwarded this email and learning about great schools doing great things is your bag…
---
🆕 New here? Catch up with previous editions, podcasts and webinars via the archive
️️❤️ Like learning from other schools? Give us a cheer. It'll help us win real internet points and help others find us.