Linda Emmett, Headteacher, All Saints Catholic College, Cheshire - How to create a culture of absolute joy on the journey out of special measures
This is the free We Are In Beta Podcast Newsletter - written by me, Niall Alcock. We - the education community - Are In Beta - a constant state of learning. Sign up to learn how school leaders are tackling the big issues in schools.
---
I called this podcast 'We Are In Beta' because the education community never stops learning. The same is true for me. I am definitely 'in beta'. I'm always learning. So I want to try something a little bit different this week.
In previous editions of this newsletter, I've given you some clues about what we talk about in the podcast interviews. But I've not really given too much away.
For this episode, I want to give you some more context about my guest - because it's an inspiring story that's really worth setting up - and share some some of the highlights that I'll take away from the conversation - because they're worth reflecting on.
So here goes. (Let me know what you think and I'd love you to spread this far and wide online so other teachers can hear it, please - especially senior leaders in schools. Thank you.)
---
When Linda Emmett, Headteacher at All Saints Catholic College, Cheshire, joined the school "it was broken in all areas. It was deeply, deeply inadequate."
But since then she and her team have "created a new vision for what all things could be. Transforming people's expectations of the school and of themselves".
"A school that's gone from Special Measures in February 2016 that got just as Good in July 2018", she said on Episode #9 of the We Are In Beta Podcast.
Leading a school out of Special Measures is an impressive feat. Linda has done it by creating a culture of joy and support along the way.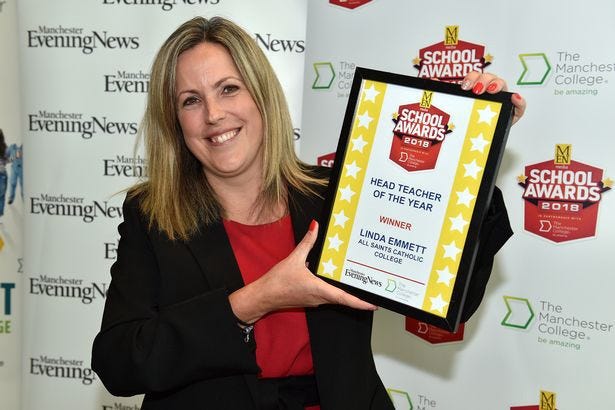 Image credit: Manchester Evening News
---
But how did she create this culture of joy and support on their journey out of Special Measures?
Below I've summarised nine key takeaways. Enjoy!
1. Don't settle, aim high.
"I think if you set very high expectations and set the right culture, and the right tone, and the right structure, then you can change children's lives."
2. See the potential
"But what was positive about All Saints, at the time, was that there were children who were desperate to learn, there were staff who were desperate to teach".
3. Bring everyone with you
"We've worked with the staff, and with the parents, with the pupils, and created a new vision for what all things could be. Transforming people's expectations of the school and of themselves."
4. Recognise the job is tough
"Everything we've done here at All Saints has been through a real recognition of the challenges that face schools, the workload that teachers face, a recognition that the job is really tough."
5. Invest in staff
"I was able to access training for middle leaders and aspiring middle leaders, so that the rate of improvement increased quite significantly because we weren't just reliant on the senior leadership team all the time. That the transformation was happening across the school."
6. Make it OK to ask for help and make it OK to make mistakes
"There's no fear really of getting things wrong because everybody's got everybody's back."
7. Be in service
"We regard ourselves as being in service to the staff and the school."
8. Take the temperature
"If we get a feeling where staff are feeling or we feel the staff are feeling a little stressed or little unhappy, and they're not saying something, then we'll put out an anonymous survey."
9. Don't be afraid to admit your mistakes and learn from them
I won't summarise this one. You'll have to have a listen ;)
---
These are just some of my takeaways from Linda's episode.
If you're on a journey out of an unfavourable Ofsted category, have charted that journey yourself or know someone who is on that journey today, then listen to her full interview:
👂 Listen on Spotify | iTunes | Stitcher | Libsyn | TuneIn 🔉
⭐Leave us a review and I'll give you a shout out in the next episode
👀 Read the full transcription 📖
What else do we talk about in the podcast?
Why her job in IT inspired her to teach

What she thinks is the most important thing when growing students as individuals

The programme that inspired her to take on headship

The organisations she's worked with that have helped transform All Saints

The language her team uses to encourage staff to speak up about their challenges

Why she thinks Ofsted has a positive role to play and why schools need to be careful when they are considering how to fulfil their requirements

How she is improving teacher retention

How she chose the external organisations that supported All Saints' journey

How she evaluates their success

How she secured £60,000 of funding to invest in her staff

The two questions she would ask every headteacher in the country if she could

The single most impactful thing she and her team have done at All Saints

The biggest mistake she has made as a headteacher

How she ensures staff morale is at its highest at the time of year it's typically at its lowest
---
💬 Join the conversation. Tweet us @NiallAlcock and @LindaEmmett4 @allsaintsccduk. We'd love to know what you think.
If you liked what you heard, please can I ask you share this link with your colleagues and friends in teaching?
📰If you're reading this as a public post, get access to all future episodes before anyone else as well as insights and links to resources from our inspiring guests by subscribing here 📧
---
The best 'In Beta' bits
We Are In Beta is a positive space that aims to capture the knowledge of inspiring school leaders so we can all keep learning.
As a thank you for being a valued member of the community, I curate the practical strategies and solutions to the challenges they've faced so you don't miss out on them - the partnerships, the programmes, the books and the blogs.
Linda has kindly shared her top book recommendation and her 'leadership non-negotiables'.
If you're already a subscriber, you'll get these next Sunday. If you're reading this as public post and want these resources too:
---
Get involved in the community
🙋🎙️ If you'd like tell your story or nominate a school with an incredible story to tell on the podcast check out the topics we'll be exploring or tweet me @niallalcock with what you're working on.
🙋📰 Not ready to share your story on the mic but still want to share what you are doing in your school with the community? Let me know and I'll include it in community news.
---
Thanks for playing your part in making education the place we all know it can be.

Speak soon,

@NiallAlcock
---
❤️ Please take a moment to "like" this post (the button is at the top of the mail). It helps others discover We Are In Beta. It'll make my Sunday too.
👍If you found this newsletter useful hit that forward button to share it with your colleagues so we can benefit from more wonderful, collective knowledge.
📧 If you're reading this as an email, you can keep an eye on it online as we add resources and links to it.