What are you up to? #5
We Are In Beta Community News: events, press, blogs, pods, news, impact, CPD, coaching, kindness and more
Hello listeners and subscribers,
This week's been about following up on all the story nominations and submissions for We Are In Beta Series 3 and starting work on a couple of new projects that I can't reveal anything about yet but hope to be able to soon. Watch this space.
Thank you everyone who shared last week's Community News. And welcome to all you new subscribers, who joined us after reading it. It's such a pleasure seeing this list of educators grow and grow.
Do let me know what you think of it and how I can improve it.
---
We Are In Beta Community News
While we're working on Series 3, like last week, I've curated a bunch of great stuff you're up to. To thank you for being a part of this journey. To fuel some growth and connect everyone in the community.
Thank you to everyone who submitted your news.
We Are In Beta guests, listeners, subscribers and partners are up to some great things. Check them out below.
This week you've served up:
3 huge congratulations

8 education events

3 press mentions

3 blogs

2 podcasts

1 newsletter

7 jobs

2 organisations that help school understand data and make a greater impact

2 professional development opportunities

2 coaching programmes

4 student intervention programmes

2 chances for you to be really kind

£15,000 in prize money.
But first…
A quick humble brag 🗣️
Penny Rabiger has featured PiXL Pearls (a We Are In Beta Production) in Penny's Podcasts of the Week. Thank you, Penny!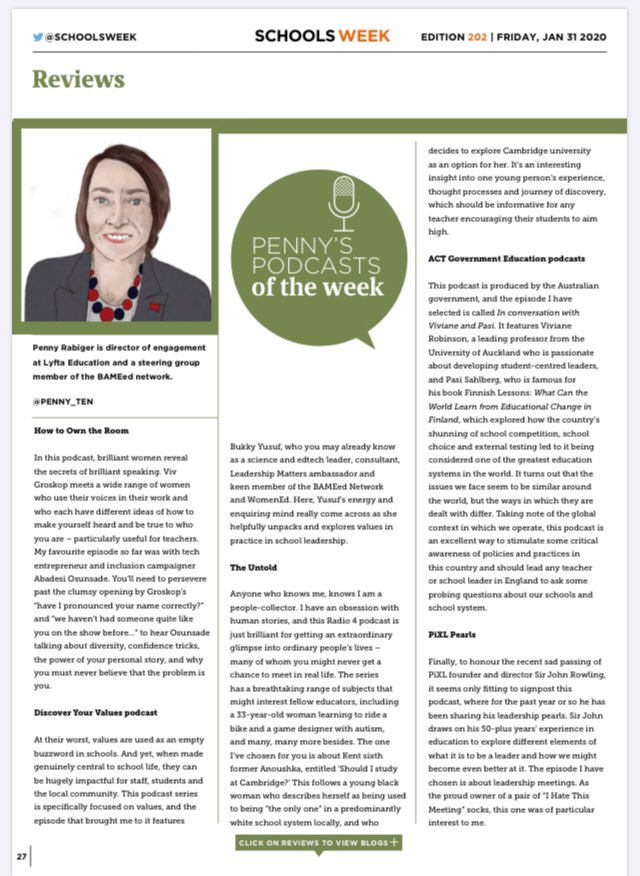 ---
---
🎧 Listen & subscribe: Apple Podcasts | Spotify | Stitcher | TuneIn
---
School performance congratulations 🙌
Izzy Ambrose's Yate Academy is among the top 50 schools in the country for Progress 8 and among the top 150 most improved schools. Congratulations, Izzy, staff, students and families.
Jenny Thompson's Dixon's Trinity Academy is 3rd nationally for performance on Progress 8. Congratulations everyone involved.
Barnaby Lenon and his staff and students at London Academy of Excellence are celebrating the best A-Level results in east London for the fifth year in a row.
Events not to be missed 📅
Will Mackintosh has planned, and invites you to the Teach First Heads Forward School Leadership Summit. We Are In Beta guests Ed Vainker and Elroy Cahill will be speaking too. 7th March. £30. Catch up on their We Are In Beta Interviews here.
Bridget Clay is speaking at Adam Bones' Be Bold Network CPD series - 'Improvements that stick: implementing evidence-informed strategies in schools and classrooms'. Thursday 6th Feb. Tickets here.
Joe Ambrose and Will Smith invite you to an Oliver Caviglioli Dual Coding Workshop at Yate Academy. 26th Feb. Tickets here.
Arv Kaushal is organising LutonEd - Hopes and Dreams for a New Decade: An Inclusive Future for Education.
Bukky Yusuf and Evelyn Forde are speaking. Tuesday 4th February 2020. Tickets here.
Antonia Spinks and the Pioneer Education Trust are running 'Pioneer Presents' - a series of keynotes to invest in educators. 23rd March 2020. Tickets here.
Bukky Yusuf, Ann Cobbles, Kat Howard, Cath Murray, Bennie Kara, Caroline Spalding and Mark Lehain are all presenting at Educating Lincs. 8th February. Line up and tickets here. £13.52.
Nav Sanghara, Caroline Barlow, Vic Goddard, Stephen Tierney, James Eldon, Dave Whitaker and Raj Unsworth - members of Head Teachers Round Table - invite you to the 2020 Summit: The Strength To Lead - The Profession's Roaring 20s. Friday 7th February.
Claire Stafford considers who leadership starts with at the Transform TSA 'My Best Talks'. Tickets here.
In the press 📰
Kiran Gill has been featured in the Evening Standard: The Excluded: One woman's crusade to tackle school exclusions.
Jeremy Hannay has been profiled in Schools Week speaking on beating scepticism and building a culture of trust. Catch up on his We Are In Beta interview here.
To read 🔖
Rachel Tomlinson shares 'Rounded & Grounded', the skills that underpin the Curriculum at Barrowford Primary School, Lancs.
Helen Ralston explains how she implemented explicit vocabulary instruction in her school in granular detail.
Jonny Uttley writes about: Ethical Leadership: I Like It. What Is It?
To listen👂
Jack Worth is a guest on Phil Naylor's Podcast Naylor's Natter discussing the latest NfER research on teacher autonomy.
Newsletters ✉️
Chris Fielding runs the SEMH newsletter for the Bolton Impact Trust. In the latest edition he featured Dave Whitaker's and Luke Mitchell's We Are In Beta episode 'Unconditional Positive Regard'.
Jobs👩‍💼
James Eldon is recruiting for an Assistant Vice Principal – Pastoral at Manchester Academy. Closing date Thursday 6th Feb.
Lucy Stephens is opening, and recruiting teachers for, her new democratic school - The New School - in Croydon.
Isabel Farchy is on the look out for an Education Trustee at Creative Mentor Network to make the creative world of work more diverse and inclusive through mentoring.
Alan Blount is proudly promoting diversity, equality and flexibility. He's seeking a PE Teacher or HoD PE (maternity) to join their PE team. Get in touch for an informal conversation.
Serdar Ferit and Penny Rabiger are looking for a Head of Marketing at Lyfta, who teach Global Citizenship with immersive human stories.
Professor Damian Page is recruiting for a Course Director for Digital Pedagogies Leeds Beckett University – Carnegie School of Education.
Stephen Chamberlain has been appointed CEO at The Active Learning Trust. Congratulations!
Services for schools - data and impact 📈
Graeme Duncan and Right to Succeed bring together the professionals driving improvement in education to build on and grow the great work being done to improve outcomes for young people.
Their Reach Programme exists to help schools meet the complex needs of pupils identified as at risk of exclusion.
Matthew Lees, Angharad Thomas and East Learning help schools discover what is working and understand why, and help share and scale best practice across local, regional and national levels.
Matthew was a particularly kind to me recently helping plan a project. So thank you, Matthew.
Professional development 👩‍🏫
Claire Cuthbert is committed to providing exceptional learning opportunities and has a range of pathways for each stage of your career at the Evolve Trust. Catch up on her We Are In Beta interview here.
Ali Wade and Thinking Matters support school leaders and train teaching staff who want to develop whole school approaches to the teaching of thinking. Check out Thinking Matters or go and say hello at The Head Teachers Round Table Summit, where they'll be exhibiting.
Coaching 💭
Katherine Powell - former Ambition Institute Executive Leadership Facilitator is offering leadership consultancy and executive coaching. Connect with her on Twitter and on LinkedIn.
Jean Ramsey is working with CCOT and Education Development Trust on their Accelerate programme. She offers a confidential, tailored coaching service that aims to build on the strengths of individual clients and organisations.
Student intervention programmes 🏫
Louisa Searle has designed First Give - a fully-resourced secondary school programme that gets an entire year group of students engaging in social action.
Gregg Sanderson and Sam Evans run Smart Schools Council which gives schools an easy way to involve every pupil in decision-making, social action and developing key skills for life.
Sarah Mohammad from Creative Mentor Network delivers a one to one 16 week mentoring scheme for 16-25 year olds with partners across the creative industries
Sarah Pengelly offers an empowering whole-school, whole-child, wellbeing programme that has been developed to help children aged 4-11 build positive relationships, become aware of their behaviour in the context of values and choices and develop a greater sense of who they are. Check out The Big Think.
Be kind to…❤️
Penny Rabiger has joined REDers, who're challenging themselves to get active every day to raise money for Mind - the mental health charity. Donate here to help her hit her £1000 target.
Muna Abdi is working on a project she can't share much about right now, but she's looking for people of African descent, who would be willing to share some childhood stories with her.
Win a life changing prize 💰
Gina Cicerone and Siwan Davies from the Fair Education Alliance have three awards going for organisations tackling educational disadvantage by delivering an intervention that contributes to the FEA's key priorities: world class teachers and leaders; a system that develops the whole child; and support for all post-16 routes.
Prizes include business support, residentials, masterclasses and £15,000. Apply here.
---
Want to share your news?
Let me know here. I'll include it next time and tweet if I can.
---
If you like staying up to date with what's happening in education but don't have much time to do it hit the button below to get these updates direct to your inbox. Then check your spam to see if the welcome email lands there.
Thanks for reading.
Thanks for playing your part in making education the place we all know it can be.

Speak soon,

@NiallAlcock
---
Catch up on We Are In Beta Series 2
While you're here, catch up on Series 2 of the podcast:
👂 Listen on iTunes | Spotify | Stitcher | Libsyn | TuneIn 🔉
🔔 Subscribe to make sure you don't miss series 3 when it's released.
---
️❤️ If you found all this useful give it a cheer, hit the like button.
🎙️Like discovering new podcasts? Check out Find That Pod. Nominate us while you're there.